SCHOOL OF LANDSCAPE & GARDEN DESIGNER
School Introduction
E&G Academy has trained hundreds of skilled horticulturists and landscape designers in Japan since 1998. A majority of graduates go on to work in key positions in the landscaping field in the capacity of nursery and landscape business owners, landscape consultants, greenhouse/nursery owners, garden book writers, photographers and garden designers.
About E&G
At E&G Academy, we consider "Exterior", an environment which surrounds buildings, and "Garden" as a one space.
"Exterior and Garden design" is a design to create a harmonious link between inside and outside of the house, and provide a comfortable outdoor living space.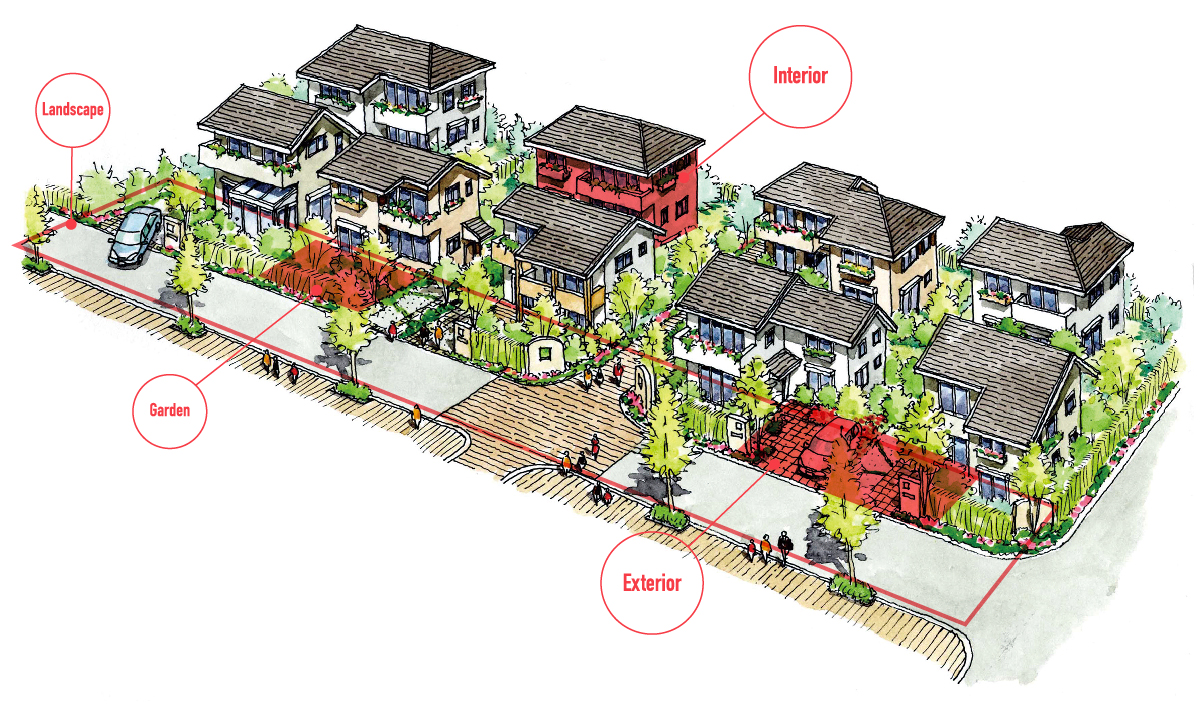 Landscape Designer Program
Our program combines hands-on experience and a rigorous academic curriculum that prepares students for employment as professional landscape designer in public, private and commercial horticulture, nursery and landscape consultant firm. Over the course of their training, students spend half of their time in work rotations in various work areas throughout Singapore.
Landscape & Gardening CAD Courses and Training Programs
RIKCAD is an exclusive CAD software for Windows, used to design floor plans, 3D modeling and perspectives for landscape and gardens, offered in Japan, but now gradually increasing its share in Asia.
E&G academy offers RIKCAD training courses for students to obtain cutting edge skill and know-how on methods of this newest technology, to be exceptional designers.
E&G Academy Singapore
Spread over 4 levels with each level focusing on a specific subject, the course modules are specially catered to suit the Singapore context and environment. These courses will be made suitable for participants who have interest in landscaping and designing, giving them the foundation in these areas. Participants will also get to learn how to use RIKCAD to draw and produce plan or drawings. It is a widely used design software in Japan for landscape, gardens and interiors.
Level 1: Basic Introduction to Landscaping and Horticulture
Learning Outcomes:
Understand how Singapore's developing landscape and how it benefits the society
Develop understanding of the basic botanical science concerning plants growth requirements
Gain knowledge in plant selection and planting design for public spaces
Learn on irrigation and its components
Introduction to Green Walls and how it functions
Identify and control common pests and diseases
Outdoor site visits for hands on learning
Level 2: Introduction to Building structure, Layout (Exterior & Interior)
Learning Outcomes:
Understand the structure of building in Singapore
Reading sketches from Housing Development Board (HDB)
Understand the concept of planning, exterior and interior
Level 3: Basics to Interior / Exterior Designing
Learning Outcomes:
Introduction to Interior Designing
Principles and Elements of design
Basic sketching / drawing
Level 4: RIKCAD (Landscape and Garden Design Software)
Learning Outcomes:
Provides the knowledge to use RIKCAD, and the digital techniques for design, presentation and documentation of landscape design
How to create basic drafts sketchers
To create simple modelling plans
Location
E&G Academy Tokyo Kokusai-Hakozaki Bldg. 5F, Nihombashi Hakozaki-cho 4-3, Chuo-ku, Tokyo, 103-0015 Japan
E&G Academy Osaka Umeda East Bldg. 3F, Taiyuji-cho 5-15, Kita-ku, Osaka, 530-0051 Japan
E&G Academy Singapore North Bridge Centre, 420 North Bridge Road, Unit 04-27, Singapore 188727
Contact
E&G Academy Singapore
Tel: +65 6762 0500
Fax: +65 6762 0300
Email: info-int@eandg.co.jp